MazorGuide Home > Culture > Jewish Literature
Jewish Literature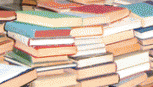 What makes a Jewish home Jewish? A mezuzah, Shabbat Candle sticks, a Chanukah menorah on display? Certainly. However, what one truly expects when entering a Jewish home is books. Lots of books. Everywhere.
The collections of books you'll find in a typical traditional Jewish home will vary, and subject to the tastes as well as religious, social an political inclinations of the homeowner. Prayer books for everyday, Sabbath, and holidays, a set or two of the Five books of Moses, the Mishnah, the Talmud tracts, commentator writings on the Bible and Talmud, Hebrew dictionaries, books on Jewish literacy, Jewish histories, coffee-table art and photograph books of Jews and of Israel. You'll also find books on latest trends, political views, world literature.. and much more. Jewish culture reveres the written word, and reading is a national pastime (though these days much of it is done online).
So what is Jewish Literature? The short answer may be a book written by a Jewish author and books about Jewish life or with a relevance or a connection to things Jewish. Some may distinguish between books Jews study, that is the "scared books and books read for pleasure or knowledge of the world, the "secular."

There is a perceptible distinction between the "Sacred " and the "secular." Books we study, such as the Chumash: the Bible, the Talmud, the biblical and Talmudic commentaries, the volumes on Jewish law, and the philosophical writings by Jewish thinkers, etc. are accepted by all as part of the Jewish Literary tapestry. But what of the "Secular" compositions. Are books written in Hebrew or Yiddish inherently Jewish? If authored by a Jew, should the book be counted as Jewish literature no matter of content? Or to qualify, must fictional and non-fiction compositions center around Israel, Jewish people, Jewish life or Jewish issues? All is debatable.

We take pride in our literary heritage and its continued growth and expansion, and we also love regale in the allure of famous and successful Jewish authors regardless their books' subject matter.

Hence, in deference to the above, though we will attempt to differentiate, recognize and honor the many subjects, disciplines, and branches of learning, we will include under the umbrella of Jewish Literature.
1. Sacred Books
2. Philosophical Works
3. Jewish Thought
4. Jewish Fiction
5. Jewish Authors of Popular Literature


Read more about Jewish literature

• Jewish Literature Home
~ Jewish American Literature
• Sacred Books
• Philosophical Works
• Jewish Thought
• Jewish Fiction
• Jewish Authors of Popular Literature
• MazorGuide Jewish Book Club